FAQ
HOW DO I USE THE PACK?
---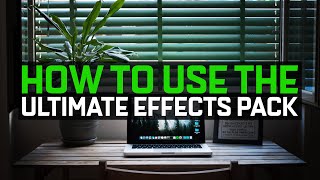 ---
I'M GETTING A RENDER ERROR. HOW DO I FIX?
---
There are a number of reason why you are experienceing a render error. Here are some steps to try. FIX: Export the video that you are trying to apply the effect to at a lower resolution then bring that back into Premiere and Export again. FIX: Restart your computer. FIX: Change your Preview File Format to GoPro CineForm FIX: Lower your Preview Resolution FIX: Disable GPU Rendering If nothing seems to be working, send me an email with your issue and we will get it resolved. thekylerholland@gmail.com
---
WHAT LICENSE DO I CHOOSE?
---
You need to choose between the Standard or Commercial licenses. If you are being paid for a Commercial project, or you are working for a company that pays you, you need the Commercial License. If you are creating videos for YouTube or anything for personal use, a Standard License is fine. When you download the Ultimate Effects Pack, you are forbidden to resell the pack as your own. You can read all of the details by clicking on each license below.
Standard License: CC BY-NC-ND 4.0
Commercial License: CC BY-ND 4.0
---
HOW DO I SUBMIT EFFECT SUGGESTIONS?
---
I'm glad you are willing to help me out with a Future Update! Please submit your suggestion here: EFFECT SUGGESTIONS
---
HOW OFTEN DO YOU UPDATE THE PACK?
---
I work on the pack quite a bit. Once purchased, you will recieve email updates whenever I make a change to the pack. However, you can see what I'm working right now on via the CHANGE LOG.
---
WHAT'S ALL INCLUDED?
---
That's a pretty broad question. Here's some stats. TOTAL PACKAGE: 657 TOTAL TRANSITIONS: 415 TOTAL AUDIO FILES: 178 In all reality, you have an endless amount of effects since you can drag more effects on top of any effect. Stack 'em then try to render once you stacked 20 effects on top of eachother... hahahaha
---
WHERE CAN I SUBMIT A BUG REPORT?
---
I'm able to update the pack on a as needed basis, if you find a bug, please help me by submitting a report here so I can make a fix and update the pack ASAP. BUG REPORTS
---
WHAT VERSION DOES THIS PACK WORK WITH?
---
This pack was designed in Premiere Pro 2020. With that said, I have downgraded the project file and you can also use this pack in Premiere Pro 2019 + Premiere Pro 2018. However, I would highly recommend using the latest version of Premiere Pro as some of the effects in the pack weren't even created for Premiere Pro in 2018.
---
---
Click a question for an answer